Configuring an External Billing Server on CUCM
Configuring an External Billing Server on CUCM
Good Bye 2016 and Welcome 2017. May this new year bring joy, peace and happiness to you & your family.
Today, we see how to Configure an External Billing Server on Cisco Unified Communications Manager.
Overview
The system can send Cisco Call Detailed Record (CDR) files to up to 3 pre-configured destinations (billing servers) using SFTP/FTP. The Cisco CDR Repository Manager on the CUCM Publisher is responsible for transferring the CDR files to the billing servers.
Complete the following procedure in order to configure Cisco Unified Communications Manager device to save CDR/CMR data to an external billing server.
Environment
CUCM 9.1.2, Enterprise software.
Procedure
You will need to access to Cisco Unified CM Administration and Serviceability pages.
In your Cisco Unified Communications Manager, set the CDR Enabled Flag to True on Service Parameter Configuration. If you want to change the time interval for collecting CDR/CMR data, click System > Enterprise Parameters, modify the CDR File Time Interval, and then click OK (in my case, it is set to 5).

In your Cisco Unified Serviceablility page, add a new application billing server with the following information:
Host or IP address – the application billing server to which you want to send CDRs
User Name – user name of the application billing server who has write permission to the directory to which you send the CDR data
Password – the FTP password
Protocol – protocol used to send CDR data to the application billing server
Directory Path – the path to which you want to send CDR data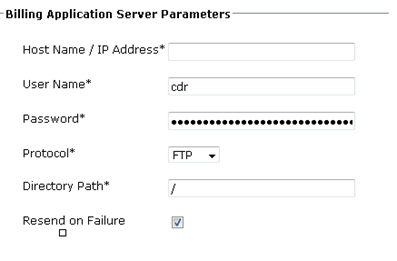 It is very important that you run the parameters on every server of the cluster. My implementation didn´t work for first time, because I only enabled one server of the cluster.
How to Verify?
Login to Cisco Unified Serviceability page: Tools > CDR Analysis and Reporting. You will see a pop up message similar to the below screenshot.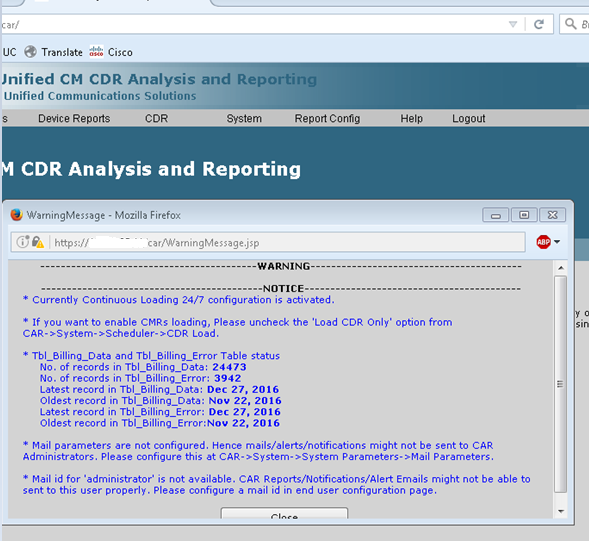 This article has been shared by : Claudio Quiroz Cabello (CCNA Collaboration)
Hope this helps!
Electrical Engineer CCNA Collaboration CCNA Voice CCNA R&S. I'm Electrical Engineer and I work like Support Engineer for a Telephony Service Provider Company. Before that I had position like Pre-Sale Engineer about small and medium multivendor telephony solutions. I have 5 years of experience working in Telephony Multivendor Projects. I am also 3 years of experience working in Support and implementation about Cisco Collaboration platforms: UCS server, UCM, Cisco Unity, Presence Server, Jabber, Gateway. Support Community is most useful in finding design, implementation and support tricks and shortcuts that greatly help me in my daily activities. If you need to contact me, please you can writte me.