Basic Networking Interview Questions and Answers
Question: What are the type of network?
Ans: The following are the various type of networks
LAN: Local area network
MAN: Metropolitan area network.
WAN: Wide area network.
Question: Which layer are used in router and switch
Ans: Routers are used in Network Layer and Switches are used in Data Link Layer.
Question: What is difference between layer 2 Switch and Layer 3 Switch ?
Ans: Layer 2 Switch or L2 Switch is used for peer to peer communication whereas Layer 3 Switch or L3 Switch is used for process to process communication.
Question: What is the difference between control plane and data plane?
Ans: Control Plane is the traffic of the routing protocol. For example RIP, OSPF, EIGRP depending on what protocol is being used in the network. whereas Data Plane carries the actual data.
Question: What is a DNS?
Answer : DNS is also termed as Domain Name which is used for IP address to name resolution.
Question:What is DHCP Server?
Ans: DHCP is also termed as Dynamic Host  Control Protocol. When using DHCP Server, the clients can get the IP Address from DHCP Server automatically using DORA,process
Published by Team UC Collabing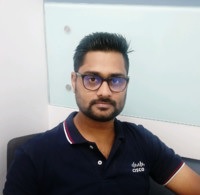 I am working in an IT company and having 10+ years of experience into Cisco IP Telephony and Contact Center. I have worked on products like CUCM, CUC, UCCX, CME/CUE, IM&P, Voice Gateways, VG224, Gatekeepers, Attendant Console, Expressway, Mediasense, Asterisk etc. I am not an expert but i keep exploring whenever and wherever i can and share whatever i know. You can visit my LinkedIn profile by clicking on the icon below.
"Everyone you will ever meet knows something you don't." ― Bill Nye