Basic Networking Interview Questions and Answers
Question: What is a Mesh Topology?
Ans:  A network where there are multiple network links between computers to provide multiple paths for data to travel. There are two types of mesh topology, i..e, full mesh and partial mesh. In a full mesh topology, each network node connected directly to each of the others. In a partial mesh topology, some nodes are connected to all the others whereas others are only connected to those nodes which they exchange the most data with.
Question: What are the possible ways of data exchange?
Ans: The following possible ways of data exchange are Simplex, Half-duplex and Full-duplex
Question: What is the difference between ARP and RARP?
Ans: ARP is termed as Address Resolution Protocol. It is a protocol which resolve IP addresses into a MAC addresses. RARP is termed as Reverse Address Resolution Protocol. It is a protocol which resolves MAC addresses to IP addresses.
Question: IP Address is called as Logical or Physical Address? and Why?
Ans:  IP Address are changeable and they are called as Logical Address.
Question: What is the size of IP Address? What are it's type?
Ans: IP Address consists of 32 bits. IP Address is defined into three types :
Public IP Address
Private IP Address
Special IP Address
Question: What are the classes of IP Address?
Ans: There are five classes of available IP ranges: Class A, Class B, Class C, Class D and Class E.
Published by Team UC Collabing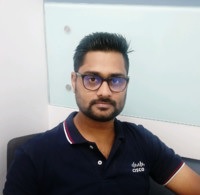 I am working in an IT company and having 10+ years of experience into Cisco IP Telephony and Contact Center. I have worked on products like CUCM, CUC, UCCX, CME/CUE, IM&P, Voice Gateways, VG224, Gatekeepers, Attendant Console, Expressway, Mediasense, Asterisk etc. I am not an expert but i keep exploring whenever and wherever i can and share whatever i know. You can visit my LinkedIn profile by clicking on the icon below.
"Everyone you will ever meet knows something you don't." ― Bill Nye