Basic Networking Interview Questions and Answers
Questions:  What are the various types of Ethernet?
Ans: There are 4 types of Ethernet used i.e., Ethernet, Fast Ethernet, Gigabit Ethernet and 10 Gigabit Ethernet. All the ethernet types has different data rate.
Questions: What are the different type of data rate different Ethernet provides?
Ans: The following are the Ethernet types and it's data rate
Ethernet – 10 Mbps
Fast Ethernet – 100 Mbps
Gigabit – 1000 Mbps
10 Gigabit – 10 Gbps
Questions: When we use Router and what is the use of a router?
Ans: When there are two different networks used, router is used to communicate between two networks. It does path selection and packet switching.
Questions: How many types of router are available?
Ans: There are two types of router, Modular Router and Non Modular Router
Questions: What are the ways to access router?
Ans: There are three ways to access router. They are as follows:
Telnet
Console cable
Auxiliary Port
Questions: What is PING ?
Ans: PING is called as Packet Internet Gopher which uses ICMP echo request and echo reply packets to determine whether a particular IP system on a network is functional/reachable. Ping is useful for diagnosing IP network or router failures.
Published by Team UC Collabing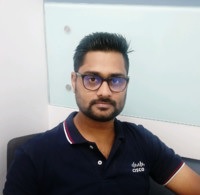 I am working in an IT company and having 10+ years of experience into Cisco IP Telephony and Contact Center. I have worked on products like CUCM, CUC, UCCX, CME/CUE, IM&P, Voice Gateways, VG224, Gatekeepers, Attendant Console, Expressway, Mediasense, Asterisk etc. I am not an expert but i keep exploring whenever and wherever i can and share whatever i know. You can visit my LinkedIn profile by clicking on the icon below.
"Everyone you will ever meet knows something you don't." ― Bill Nye