Cisco Any Connect with DUO MFA
Cisco ASA – Cisco AnyConnect with DUO Multi Factor Authentication 
Recently i though to deploy Cisco ASA in my lab and try Multi Factor Authentication with Cisco owned DUO app.
After installing Cisco ASA and complete the basic configuration, i started with DUO configuration on ASDM and DUO Admin (Website).
First and the foremost you need to have an account in DUO portal (I did register a trial version). After registering, i downloaded DUO app on my mobile phone as well so that my primary account from where i do login as Admin, is also authenticated with MFA.
Register for a Duo account.
Login to Duo Admin Panel
Navigate to Applications
 Click on

Protect an Application

 and search for

Cisco ASA SSL VPN

Click on Protect

You will be redirected to the application page.  Here are the things you need to do: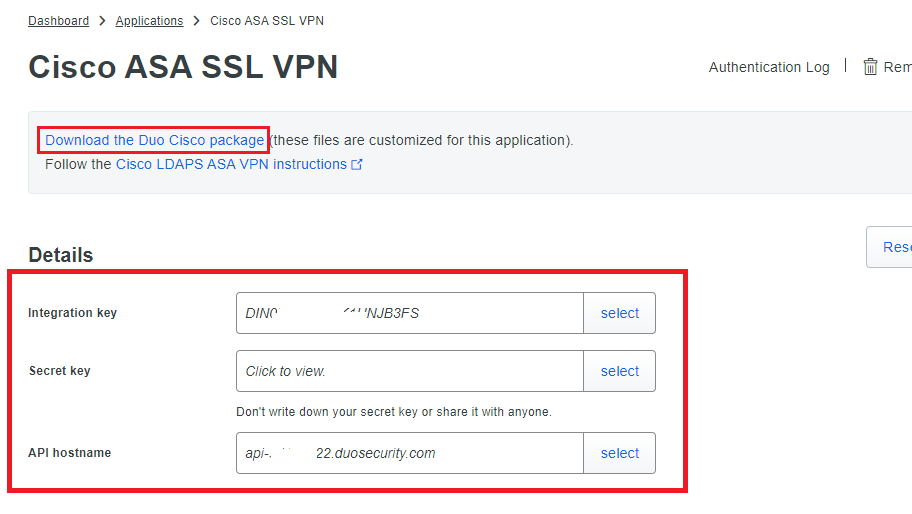 Downloading Cisco DUO JS Package and DigiCert CA Certificates
Download the Duo Cisco package from  Cisco SSL VPN application page, and unzip it and save the file in your desktop.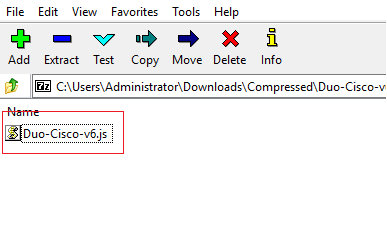 Download the following certificates from Cisco ASA LDAP page and save it in your desktop.

DigiCert High Assurance EV Root CA
DigiCert SHA2 High Assurance Server CA
So, all the three files will look as below:

Register a user in DUO
Navigate to Users > Click on Add User
Username > Enter a username. The username should be the same name as configured in your AD, who is going to authenticate himself/herself using Cisco AnyConnect VPN.
Make sure that the user is part of a group and the user is Active.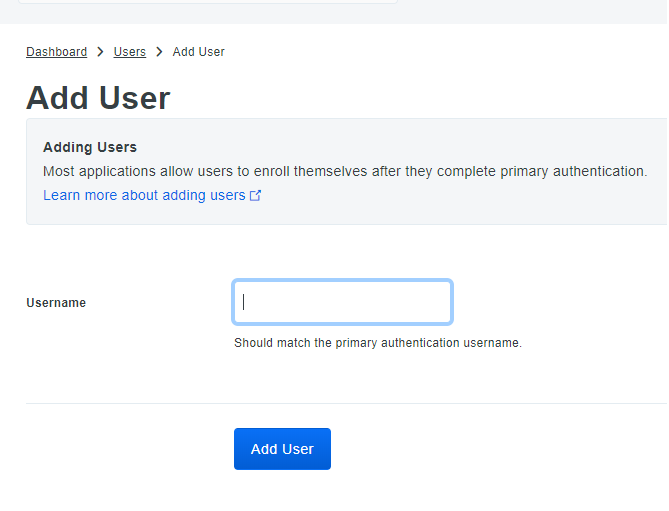 Install the DigiCert CA Certificates
Log on to  Cisco ASDM Interface.
Click the 

Configuration

 tab and then click 

Device Management

 in the left menu.
Navigate to Certificate Management > CA Certificates.
Click the 

Add

 button.
In the "Install Certificate" window, select the

Install from a file

 option and then click the Browse.
Select the DigiCert High Assurance EV Root CA file you downloaded from DigiCert and click on Install.
 Select the DigiCert SHA2 High Assurance Server CA file you downloaded from DigiCert and click on Install.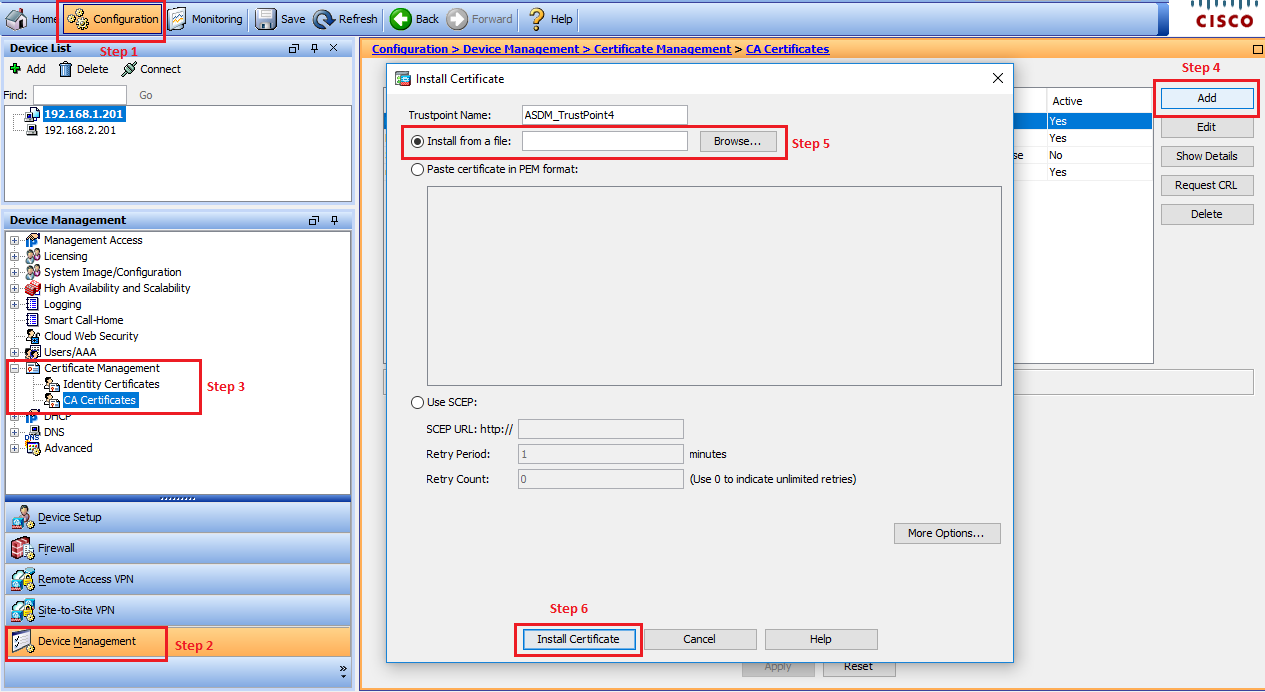 Modify the Login Page 
Importing the JS File
Click the

Configuration

 tab and then click 

Remote Access VPN

 in the left menu.
Navigate to 

Clientless SSL VPN Access

> 

Portal

 >

Web Contents

.
Click on

Import

.
Select

Local computer

, click 

Browse Local File. 

Upload the JS file Duo-Cisco-vX.js file you downloaded and extracted from the zip file.
After the file is selected, Duo-Cisco-vX.js will appear in the Web Content Path box.
In the Destination section, select

No

 in response to "Require authentication to access its content?"
Click on Import Now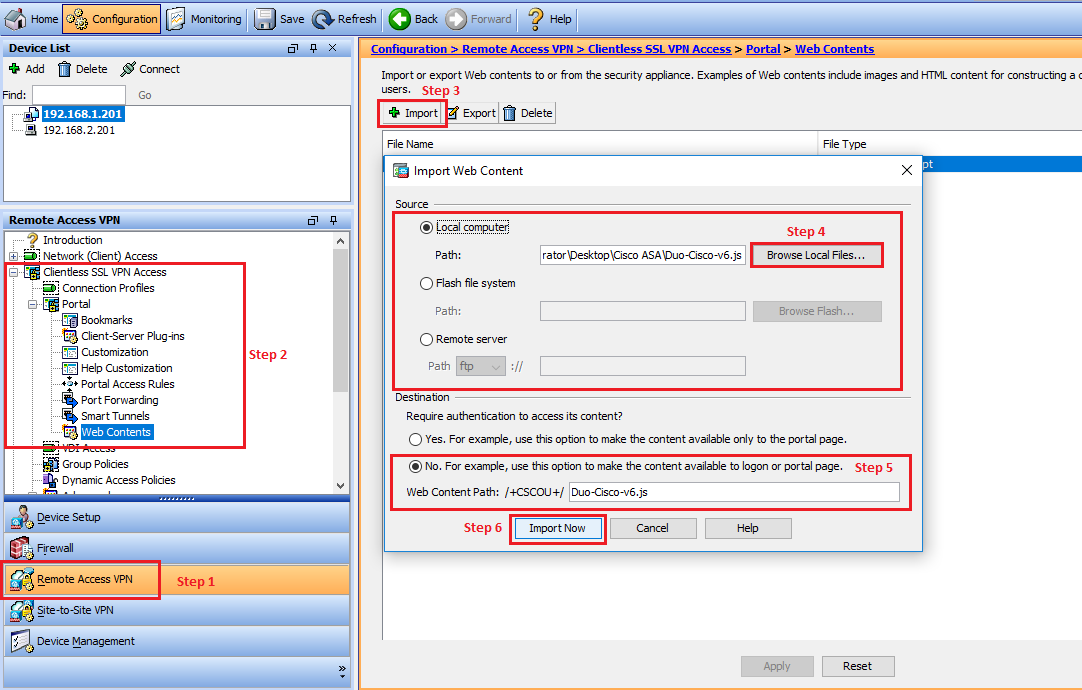 Customizing the Login Page
Navigate to Clientless SSL VPN Access > 

Portal

>

Customization

Click on Edit
Click

Title Panel

 (under 

Logon Page

)
Type <script src="/+CSCOU+/Duo-Cisco-

vX

.js"></script> (replace vX with the file version you downloaded in the previous step)
Click OK.
Click on Apply.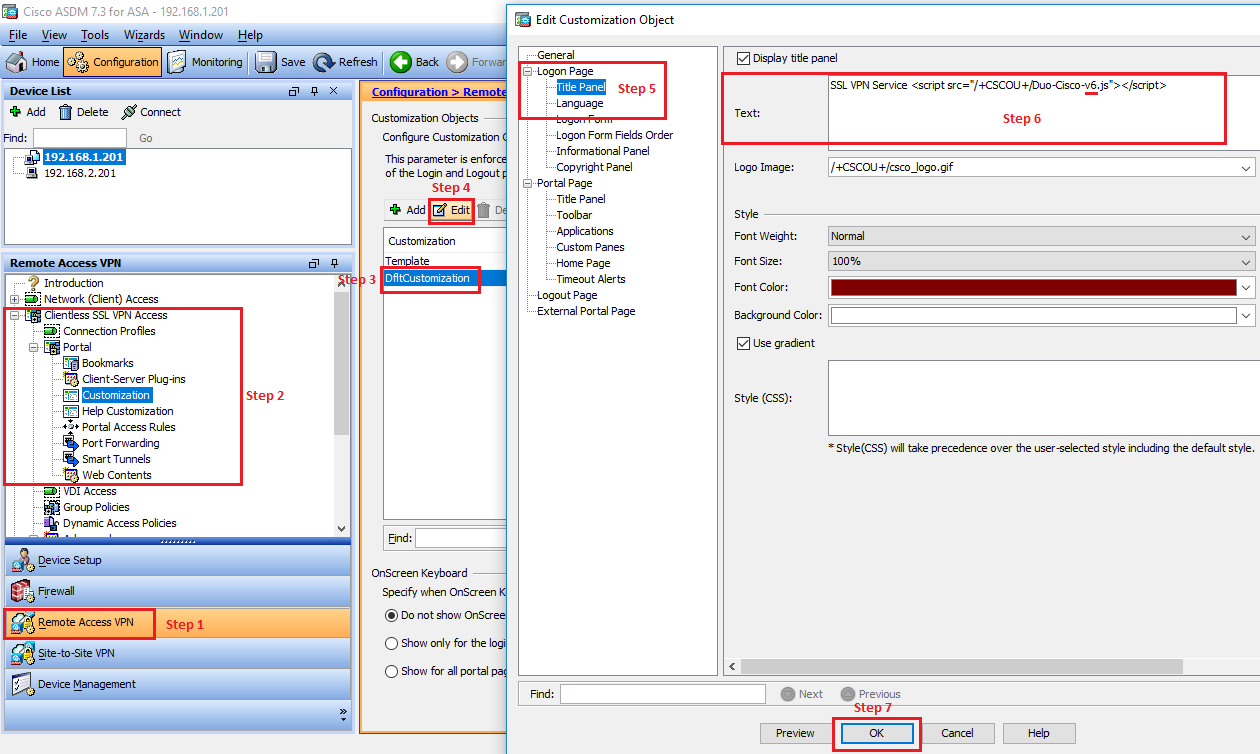 Configuring the DUO LDAP Server
Configuring AAA Server Group:
Navigate to 

AAA/Local Users

> 

AAA Server Groups

Click

Add

In the Server Group > Duo-LDAP
Protocol > LDAP
Click on OK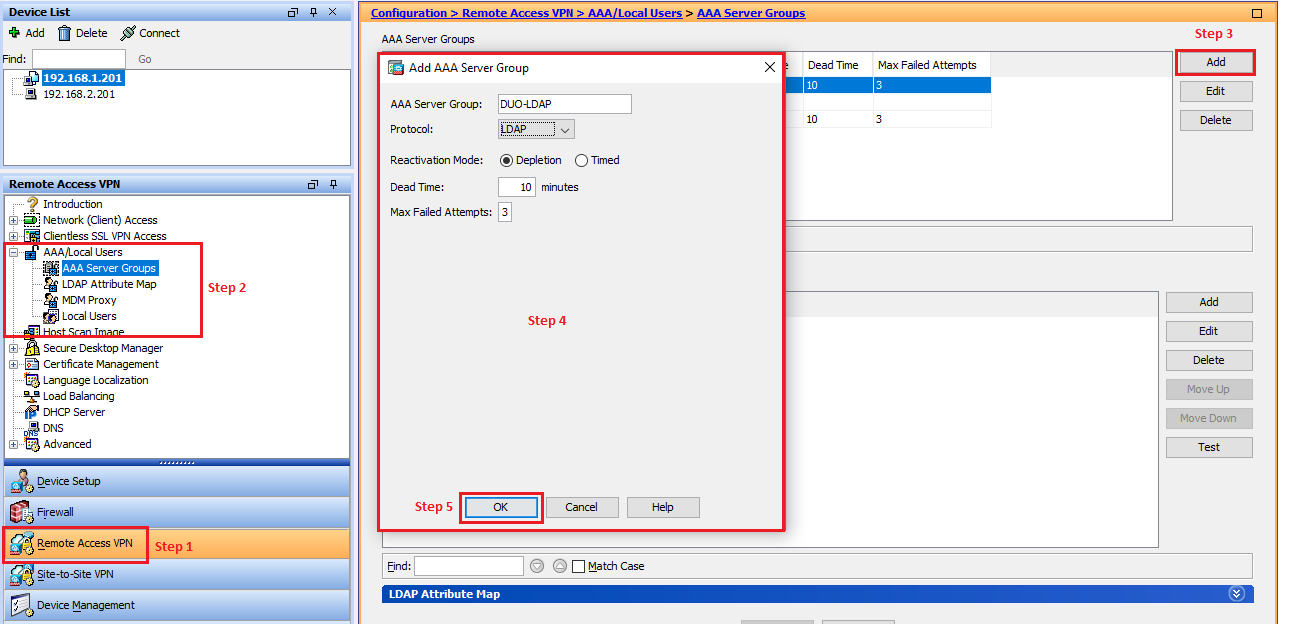 Add AAA Server
Select the DUO-LDAP group which was just added.
Interface Name > Choose the external interface which is connected towards Internet.
Server Name or IP Address > Your 

API hostname

(i.e. api-XXXXXXXX.duosecurity.com) 
Timeout > 60 seconds
Check 

Enable LDAP over SSL

 
Server Port > 636
Server Type > — Detect Automatically/Use Generic Type —
Base DN > dc=

INTEGRATION_KEY

,dc=duosecurity,dc=com
Scope > One level beneath the Base DN
Naming Attribute(s) > cn
Login DN > dc=

INTEGRATION_KEY

,dc=duosecurity,dc=com
Login Password > SECRET_KEY
Click on OK
Click on Apply
Note: Replace INTEGRATION_KEY and SECRET_KEY with your application-specific keys)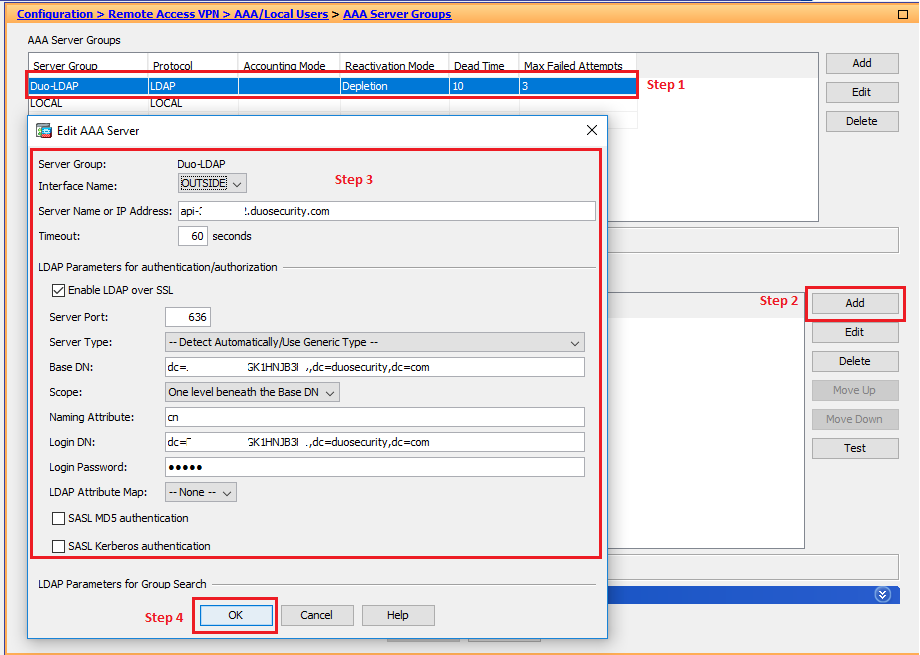 Testing AAA Server Authentication
Click the

Test

 button.
On the "Test AAA Server" form, select 

Authentication

.
Enter the username of user that exists in Duo and has a valid authentication device (like a phone or token).
Instead of entering the user's password, enter the passcode from Duo Mobile App and then click 

OK

.

Configuring the DUO LDAP Server
Navigate to 

Clientless SSL VPN Access

> 

Connection Profiles

Select the connection profile to which you want to add Duo Authentication near the bottom and click 

Edit

Choose 

Secondary Authentication

 (under 

Advanced

) from the left menu.
Select 

Duo-LDAP

 from the 

Server Group

 list.
Uncheck the 

Use LOCAL if Server Group fails

 check box.
Check the 

Use primary username

 check box.
Click OK
Click Apply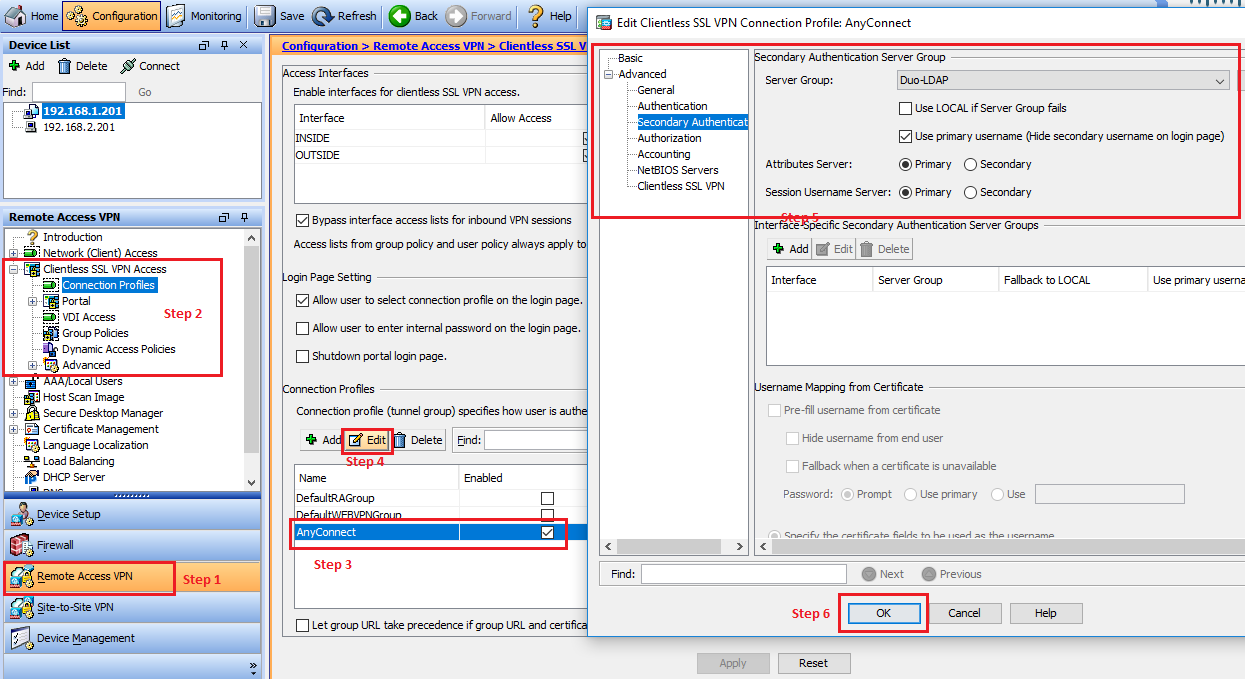 Testing with DUO – Using WebPage and AnyConnect VPN Client
Testing using WebPage
Enter the Web URL of Cisco ASA
You will be prompted to login with two way authentication. On the first page, the authentication will be you RADIUS Authentication (Local Authentication).
Enter your username and password and click on Login.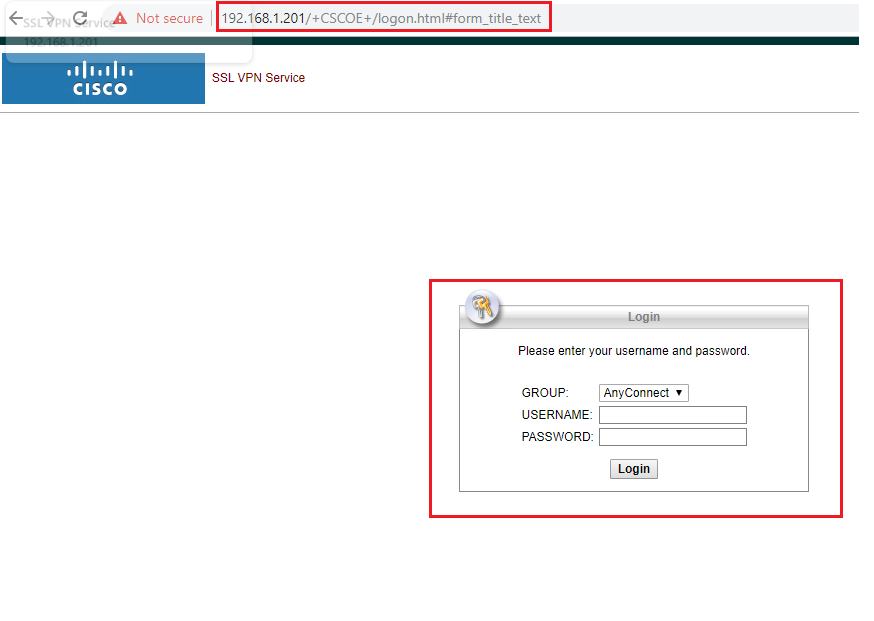 Once you successfully authenticate on your first page, then you will be asked for secondary authentication i.e., DUO Authentication where you can either send a push notification and approve the authentication or enter the generated password from your Mobile DUO app.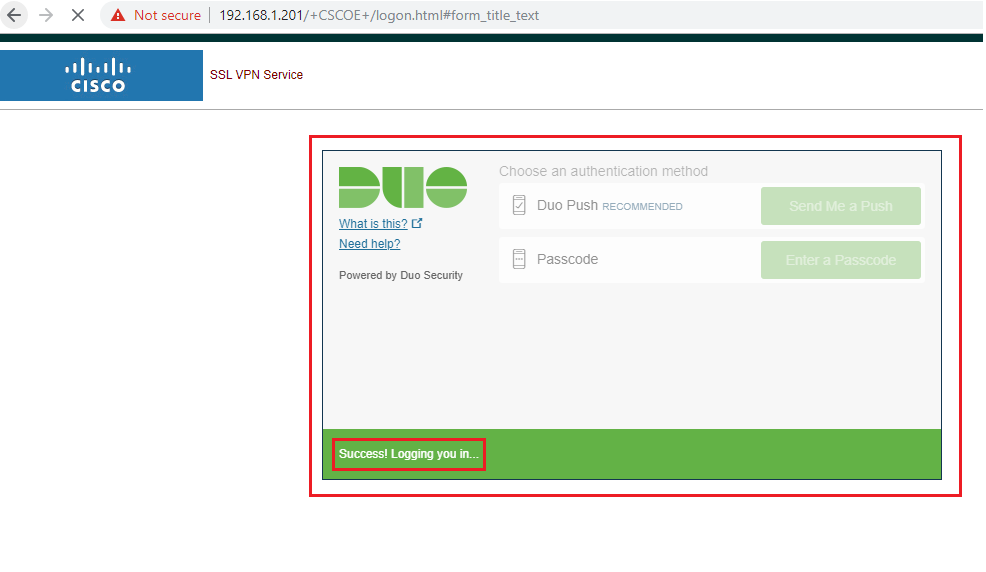 Testing using Cisco AnyConnect Client
Launch Cisco AnyConnect Client and connect to your ASA
Enter your AD Username
Enter your AD Password
Enter your secondary Password : You can get the passcode from your DUO App
Click on OK
If your AD username and password and your secondary authentication is successful, you will be able to login to Cisco AnyConnect VPN.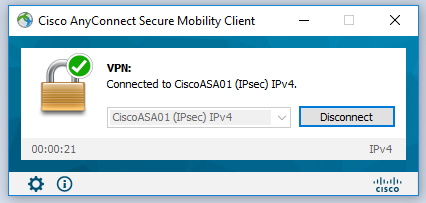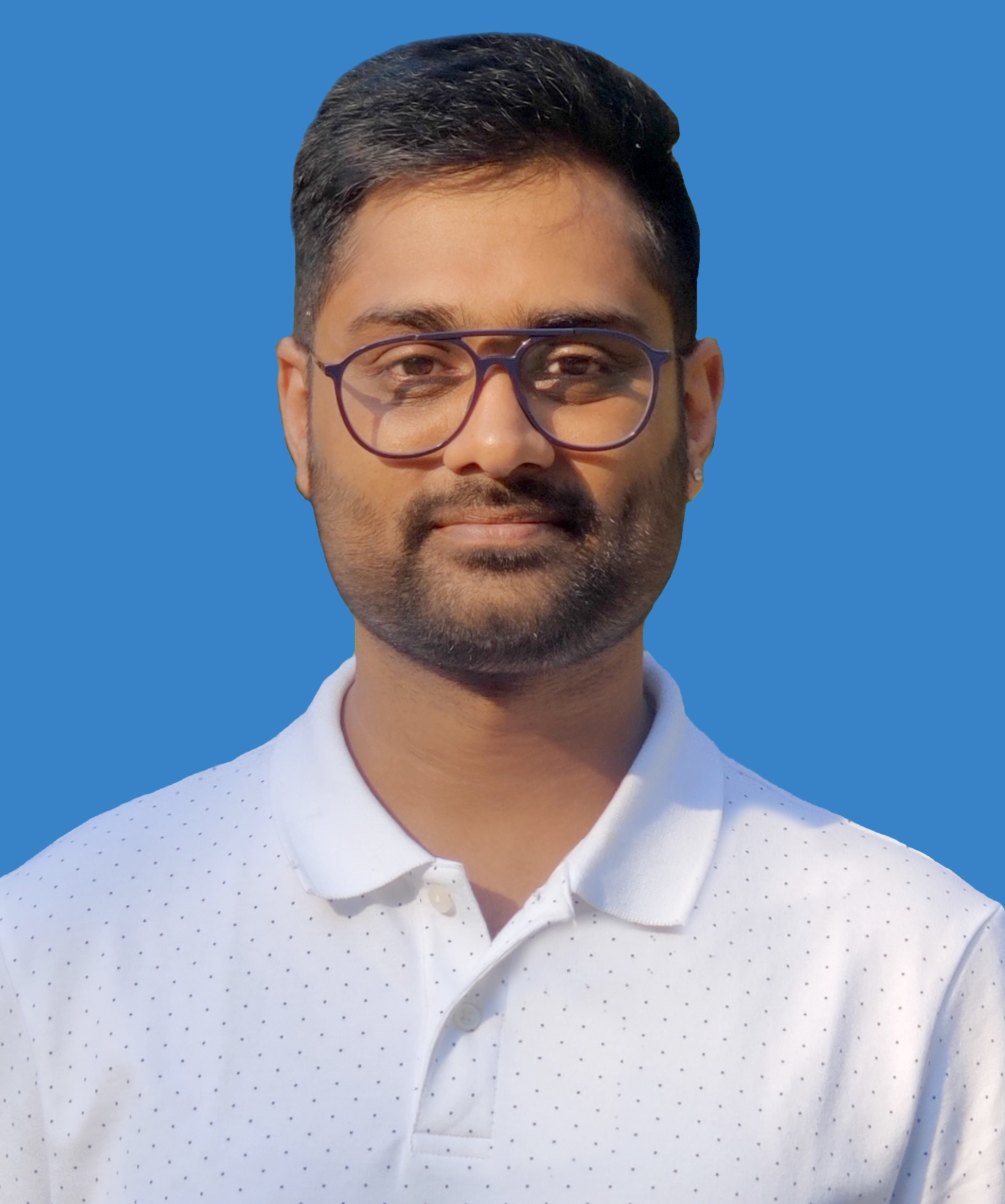 I am working in an IT company and having 10+ years of experience into Cisco IP Telephony and Contact Center. I have worked on products like CUCM, CUC, UCCX, CME/CUE, IM&P, Voice Gateways, VG224, Gatekeepers, Attendant Console, Expressway, Mediasense, Asterisk, Microsoft Teams, Zoom etc. I am not an expert but i keep exploring whenever and wherever i can and share whatever i know. You can visit my LinkedIn profile by clicking on the icon below.
"Everyone you will ever meet knows something you don't." ― Bill Nye